Registering a domain name is step no. 1 in an online project. To ensure your success on the internet, Infomaniak does its utmost to make using domains as simple and secure as possible. In order to be the go-to partner for companies and individuals looking to register a domain name, we apply a simple strategy by offering an unrivalled level of service at the lowest prices.
Accredited by ICANN, VERISIGN, AFNIC, SWITCH… : choose in confidence
Infomaniak is a registrar known for its reliability and value for money. We work closely with the official registries of the most popular domain extensions. As an accredited registrar, we protect our customers' domain registrations by strictly applying registry verification procedures. We develop innovative solutions such as the kCheck app to check the authenticity of Infomaniak accounts, which saves you lots of time and guarantees that your identity documents are handled in a secure and confidential manner and deleted at the end of the process.
In the case of professionals and web agencies, we offer to manage domain names in batches directly from our custom interface created by our developers in Switzerland. As you would expect, we offer our Domain Privacy service for anonymity on Whois.
Up to 90% off to buy your domain names as inexpensively as possible
Infomaniak lets you register your .com .ch .fr .store domain at the best price with all the features you need to manage it throughout your project. We offer repeated promotions and some of the most competitive renewal rates on the market for both new and classic extensions. Infomaniak offers these low prices without compromising on the quality of its services. In a nutshell, you pay less for a service that's better than most of the market.
A free email address with a web page for each domain name
Need a professional email address in the format firstname@yourdomainname.tld? Infomaniak offers an email address with unlimited storage and a web page that's easy to customise for using right away with your domain name. This free address also gives you access to our Mail, Calendar and Contacts ecosystem. You can easily order additional addresses later on if you need them.
A complete and attractive registrar for discerning companies and individuals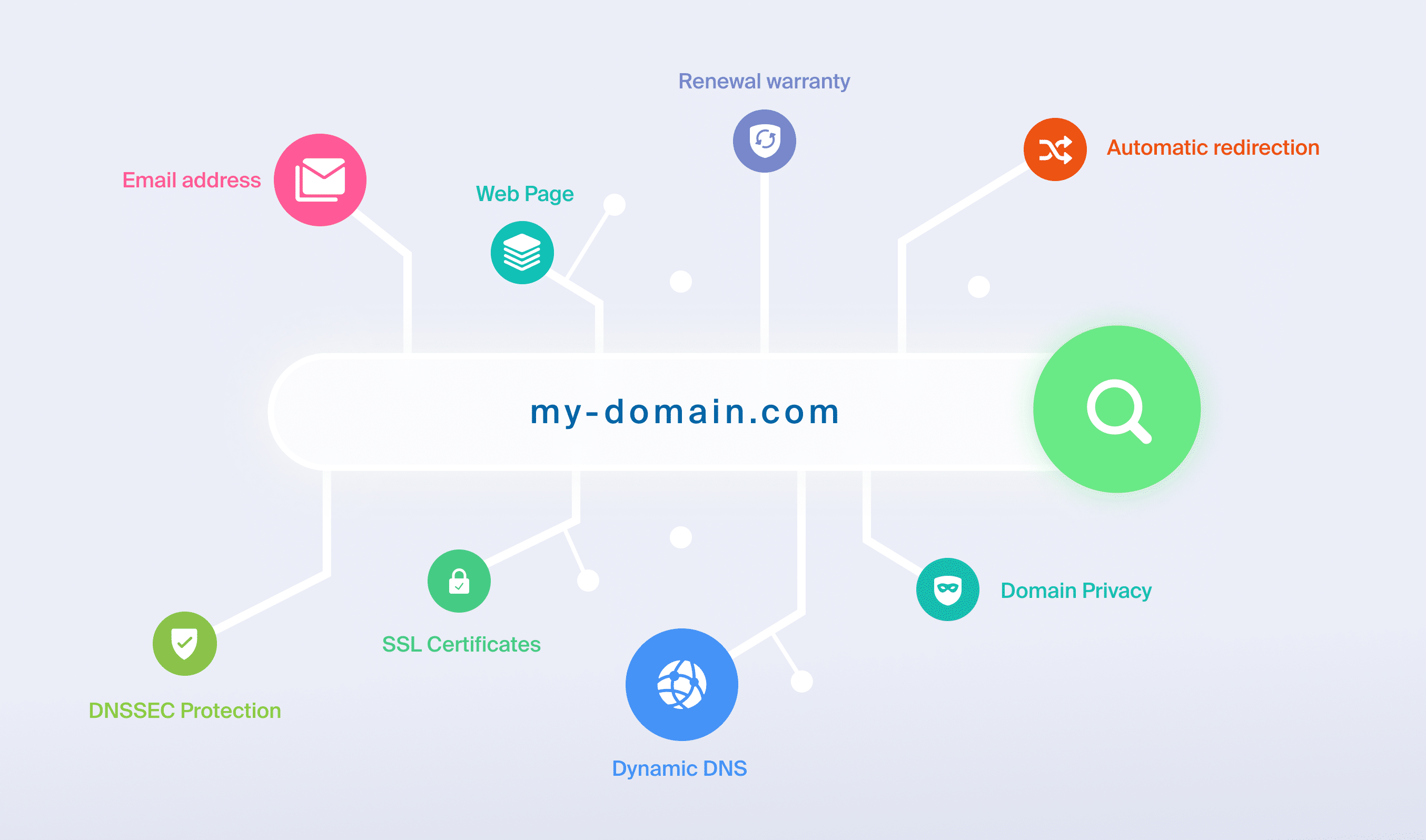 As a leading developer of web technology and a key player in the cloud in Europe, Infomaniak manages more than half a million domain names and continuously develops its services to meet market expectations.
Easily link your domains to WIX, Squarespace, Office 365 and Synology
Our developers are continuously improving our admin console to meet our customers' needs. You can link services, email addresses or websites to your domain in a few clicks, without any technical knowledge.
Complete, lock-in-free domain management
At Infomaniak, you can freely transfer your domain names without any lock-in mechanism. Functionality is always at hand and allows for complete freedom. For instance, you don't need to contact technical support to obtain a "transfer code", and you can access the advanced DNS management of your domain names independently.
Secure your sites easily with an EV or free SSL certificate
With 1 click, reassure your users with SSL certificates adapted to your activity. We provide SSL certificates for all purposes: free SSL certificates from Let's Encrypt and paid certificates guaranteed by the world's leading certification authority (EV and DV SSL from Sectigo).
1 click to never have your domain name stolen
Want an absolute guarantee that you'll not lose your domain name? Infomaniak personally warrants that this never happens with Renewal Warranty. With this option, no one will be able to steal your domain if you forget to renew it or your credit card expires.
Increase the speed of access to your sites worldwide
The DNS Fast Anycast option allows your international customers to access your website up to 34% faster. This technology is activated in 1 click and needs no modification on your part. The DNS of your domain are replicated worldwide, so in the event of disruption of a DNS server, your visitors are automatically redirected to the nearest server, which also boosts the availability of your websites.
DynDNS for accessing your connected devices from your domain names
With DynDNS, you can remotely manage your connected devices wherever you are and whenever you want! This free service lets you point your domain (or sub-domain) to your internet box and access the devices connected to it, such as a NAS Synology or Qnap, or your home automation installations (360° cameras, wifi speakers, lights, etc.).
Customise the Infomaniak suite with your domain and brand image
With My kSuite, Infomaniak's online applications such as kMeet, Mail and kDrive can be customised with your domain name and logo. Your domain thus contributes to raising awareness of your brand image.
Any questions? We're always here to help you with your domains
If our knowledge base doesn't immediately answer your question, it's easy to contact us by email, chat or phone! Our technical support can help you diagnose a configuration problem, set up your domain or answer your questions in over five languages.
What would you like to do now?