Finding the ideal web agency or webmaster can be a long and laborious process. In this article, we offer you some advice on how to attract skilled and reliable experts and show you the quickest and most effective way to get free, no-obligation quotes from more than 1,000 industry professionals.
Are you looking for the perfect webmaster to build your website?
When it comes to getting started on a website project, the same questions often crop up:
Do I have to create my website myself?
How much does a website cost?
How can I obtain and compare quotes for building a website?
And so on.
It is difficult to know where to start while you are still faced with so many grey areas, especially if you don't have the right contacts. The recommendations given in this article will help you eliminate the risks and find the right person to bring your project to fruition.
Find a webmaster: compare quotes for free and with no obligation
The more information you have at your disposal, the stronger position you will be in. You therefore want to make sure you are ideally equipped to make an informed choice.
Pay close attention to the market
If you go for the first webmaster you find, quality is by no means guaranteed and you will be taking risks:
The webmaster who responds quickest to your enquiry is not necessarily the best. If someone has a lot of availability, it may mean that not enough customers on the market are convinced by their expertise and they rely on any contract they can get.
The web agency or webmaster that appears at the top of your list of Google search results is not necessarily the best of the bunch. All this means is that their site is a priority customer acquisition channel and that they have invested in advertising or spent time on their search engine optimisation. A really good webmaster can just as easily attract clients on the strength of their network or by word of mouth.
Don't rush – but don't waste time either. Choose methods that boost the effectiveness of your efforts and broaden their scope. This is what we will be looking at next.
A tool for speeding up and simplifying your search for service providers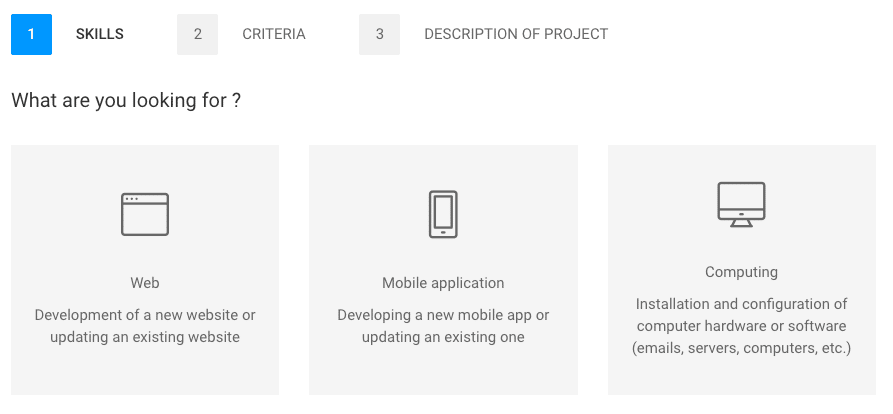 Infomaniak offers a free tenders platform that enables you to obtain quotes from over a thousand providers of web and IT services across Europe. You can use this tool to get in touch with Infomaniak's partners – professionals who use our services and know them by heart. What's more:
None of the information provided will be analysed by Infomaniak.
Infomaniak does not charge any commission.
The only restriction is one simple obligation imposed on your chosen service provider, who will have to work with our services to implement your project.
This tenders platform also enables you to find providers for the following services:
IT troubleshooting
Network maintenance
Mobile app development
Communications (editors, copywriters, etc.)
Digital marketing (advertising on Google and social media, e-mail marketing, etc.)
Launch a call for tender to build a website (or for other projects)
Go to Infomaniak's tenders platform and select your project type:
Web development (creating websites)
Mobile app development
Digital communication and marketing
Maintenance (website, network, server, etc.)
General IT (installation, configuration, etc.)
And so on.
Then all you have to do is provide details of your project to attract relevant responses from service providers.
Your request will then be available to view by more than 1,000 professionals, who generally respond within 48 hours. This will allow you to compare a range of free, no-obligation quotes.
How to attract the best webmasters
In order to offer you a quote, service providers need to gain as precise an understanding as possible of the issue you are dealing with. Top webmasters won't have much time to spend on this, so you need to make their life easier and make them want to work with you 🙂
Draw up a requirements specification for a website
Webmasters have a significant advisory role to play, and they will base their advice on your specification to enable you to achieve your objectives, bearing in mind your starting point and the resources available to you.
Give them all the information they need from the start:
Who are you? What you do, who your customers are, what area of activity you operate in, etc.
What is the main target audience for your project? Specify any secondary target audiences, etc.
Describe your project, both as it is in its current state and what you are aiming to achieve:

Are you building a new website?
Or redesigning an existing one? (Also specify what technology you are using: WordPress, etc.)
What type of website is it? (Showcase site, sales site, information site, community, landing page, etc.)
Will you be providing the text and illustrations or do they need to be included in the budget?
List the pages and sections you would like
Describe the features you would like to have (member login, paid-for content, booking system, online calendar, etc.)
Indicate whether the website needs to be updated by you or whether this can be done by the webmaster (this will influence your choice of technology)

Explain the aim of your project, e.g.:

To raise awareness of what you do
To improve your search engine ranking
To transfer some of your activities online
To improve the user experience
And so on.

When do you need it for? Set a deadline that is generous enough to work with comfortably. Feel free to provide a provisional schedule, including intermediate stages (briefing, final proposal, implementation, etc.). You can also ask to stagger payments based on these stages, for example.
How much? Set a budget for implementing the project.
How to choose the right webmaster
You now have contacts thanks to the quotes you have received from various service providers. Now it's time to choose the right webmaster for you from those you have found on Infomaniak's tenders platform and via your own network.
1. Draw up a short-list
List two to five service providers based on their level of service. E.g.:
1-2 service provider(s) offering entry-level rates
1 service provider offering a mid-range price
1-2 high-end/bespoke service provider(s)
Why not just go for the "least expensive" option?
Price does matter. If you receive an offer within your specified budget, you absolutely must give it the same weighting as any lower offers when you are considering which to choose. A higher quote (even if it is several times higher) may work out as more cost-effective than a low-budget offer if the service provider is offering a high standard of service, finish and follow-up support.
2. Ask questions and ask for references
How will you and the webmaster work together? Ask all the questions you need to in order to proceed smoothly:
What experience do you have?
In IT in general, there is no substitute for experience (computer vision, coding knowledge, etc.)
Do you have any examples of your work and references from similar projects to mine?
How do you manage requests to make changes on a website?
(Deadlines, responsiveness: there is no such thing as instant responsiveness)
What are your methods of choice and core areas of expertise?
(Be wary of service providers who say they can do everything)
Do you accept payment in instalments?
(Never pay the full amount in one go if this is the first time you have worked together)
Check references
It's easy to provide a few URLs. Depending on the platform used, it's a good idea to check that the references you have been given genuinely are for websites created by the webmaster in question. To check this, go to the contact section on the website and ask, for example, if the website owner is satisfied with the services provided by their webmaster.
3. Select the best webmasters
The steps outlined above will enable you to find the most promising candidates for your project. By this stage, these service providers are no longer unknown entities and you can ask them to provide a final and more detailed quote with a provisional schedule.
Congratulations! You're ready to get started 🙂
In a nutshell
Here are the four steps you need to follow to find the right webmaster quickly:
Draw up a detailed requirements specification
Compare several offers (quotes)
Check your chosen candidates' experience and references
Choose professionals who offer payment by instalment
Do you have any further questions?
Do I have to create my website myself?
WordPress allows you to design attractive websites without any experience in developing. However, you don't have to do this yourself if you are unwilling to spend a little time getting to grips with the relevant tools. The answer to this question essentially depends on your skills and the aim and size of your project.
What technology should I use to build my website?
Use standard, tried-and-tested technology such as WordPress. Your webmaster will advise you on alternative options if your specification requires this.
Will I retain my SEO ranking if I redesign my website?
This is an opportunity for improvement worth taking advantage of. With the right redirections to the new versions of your web pages, you will be able to maintain your SEO ranking. Your new website will be better placed to meet the latest SEO standards.
How much does a website cost?
Here are some price ranges to give you an idea of what level of cost you can expect:
CHF 1,000 to 5,000: "showcase" site, without any advanced features
CHF 5,000 to 15,000: "basic e-commerce" site with a login function and/or a multilingual option
CHF 15,000 to 30,000: "advanced e-commerce" site with customer accounts, login management and multiple currencies and languages
It is not uncommon for websites to end up costing CHF 80,000 or even much more. These sites are the product of an in-depth strategic planning process. They include performance marketing tools, supplementary databases such as CRM databases, different paths for different categories of users, etc. The price of your website will depend on the aim and size of your project. It should be in line with the sales potential it could offer for your business.
Should I choose a freelance webmaster or a web agency?
That depends on your personal preferences and the scope of your project. Both are likely to provide you with the same level of performance. A freelance webmaster will serve as a single point of contact for you, whatever your query. An agency will rely more on operating as a team, which has the potential to offer you additional expertise if you need it.
Should I choose a webmaster based locally to me?
It is perfectly possible for a webmaster to work remotely and if you are keen on a particular webmaster who isn't local, go for it. However, bear in mind your own skills in using the tools required. If you want to be able to modify your website content yourself, you may need to factor in some training, either face-to-face or via videoconferencing.
Find out more