Always with a strong focus on security and privacy, kMeet's evolving to offer HD video quality and new collaboration features that are much in demand. Virtual backgrounds and meeting scheduling are the first new features being rolled out ahead of the imminent arrival of annotation and remote control.
kMeet powers more than half a million sessions across Europe every month. The videoconferencing solution is used by companies, freelancers, students and artists. Thanks to its integration into the online ticketing system, kMeet enables e.g. musicians and actors to organise rehearsals and after-show VIP backstage sessions with the audience.
+200 updates for quality to match that of the industry giants
"Our vision for kMeet is to have it integrate seamlessly with our collaborative ecosystem, so businesses benefit from a powerful, reliable and autonomous alternative to the web giants." Marc Oehler, CEO Infomaniak
"kMeet now offers HD audio and video quality even with less powerful connections, thanks to the performance of the VP9 codec, which reduces the data throughput rate by up to 50%," explains Léopold Jacquot, a back-end developer at Infomaniak.
Like Zoom, users are now invited to download the kMeet app to their device to enjoy top video and audio quality. Anton Buksa, a front-end developer, adds: "It's also possible to join a kMeet meeting without installing the application, including from an iPhone or Android mobile."
Download the kMeet app:
Schedule your meetings online from kMeet and your calendar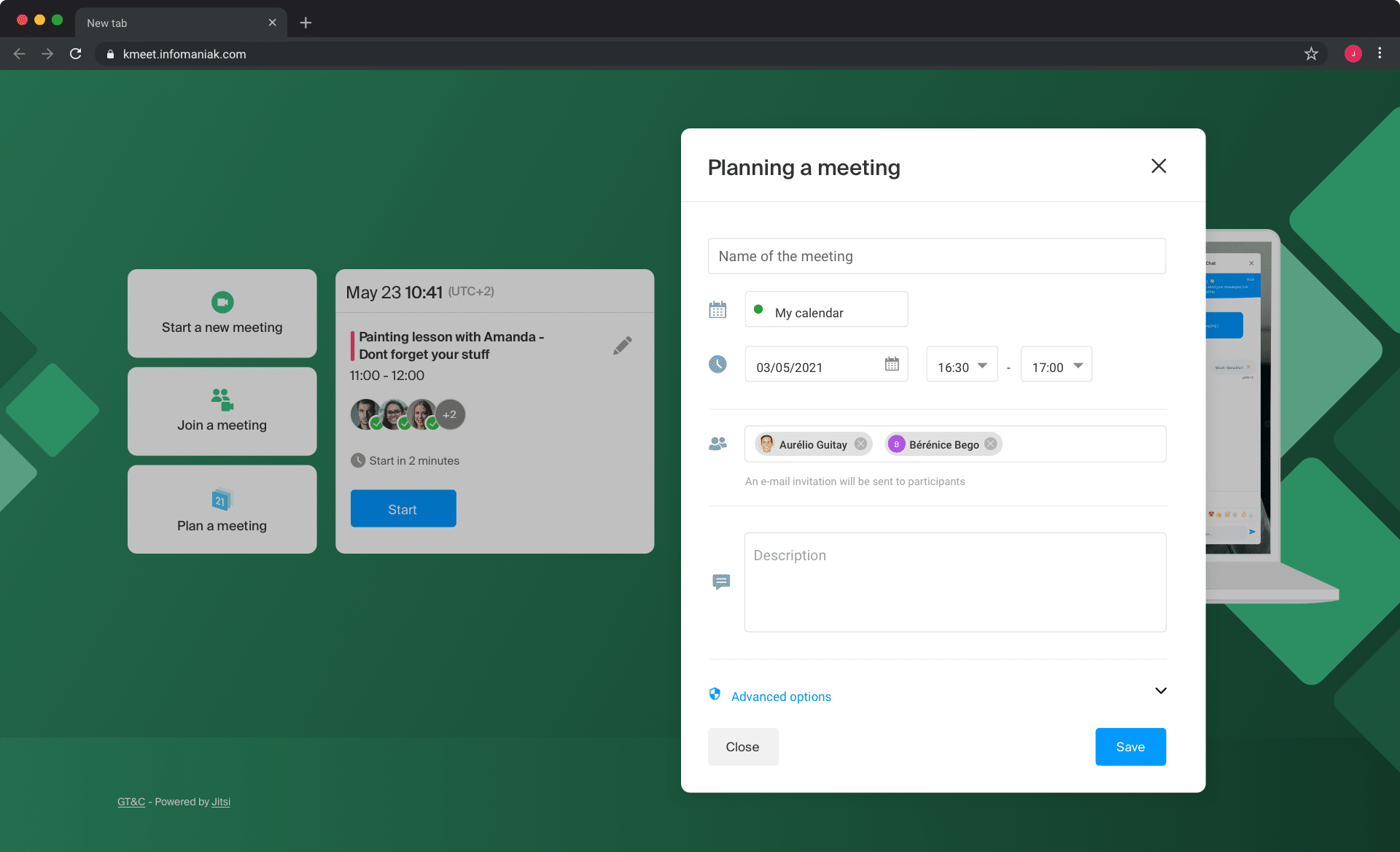 The new kMeet interface lets you view upcoming meetings or schedule them. Whether you're using kMeet or Calendar, you can create your meetings in seconds and quickly invite your contacts from your address books.
Everything's perfectly integrated into calendar.infomaniak.com and contacts.infomaniak.com, and that includes the free @ik.me addresses
Break the ice with the best virtual backgrounds on the web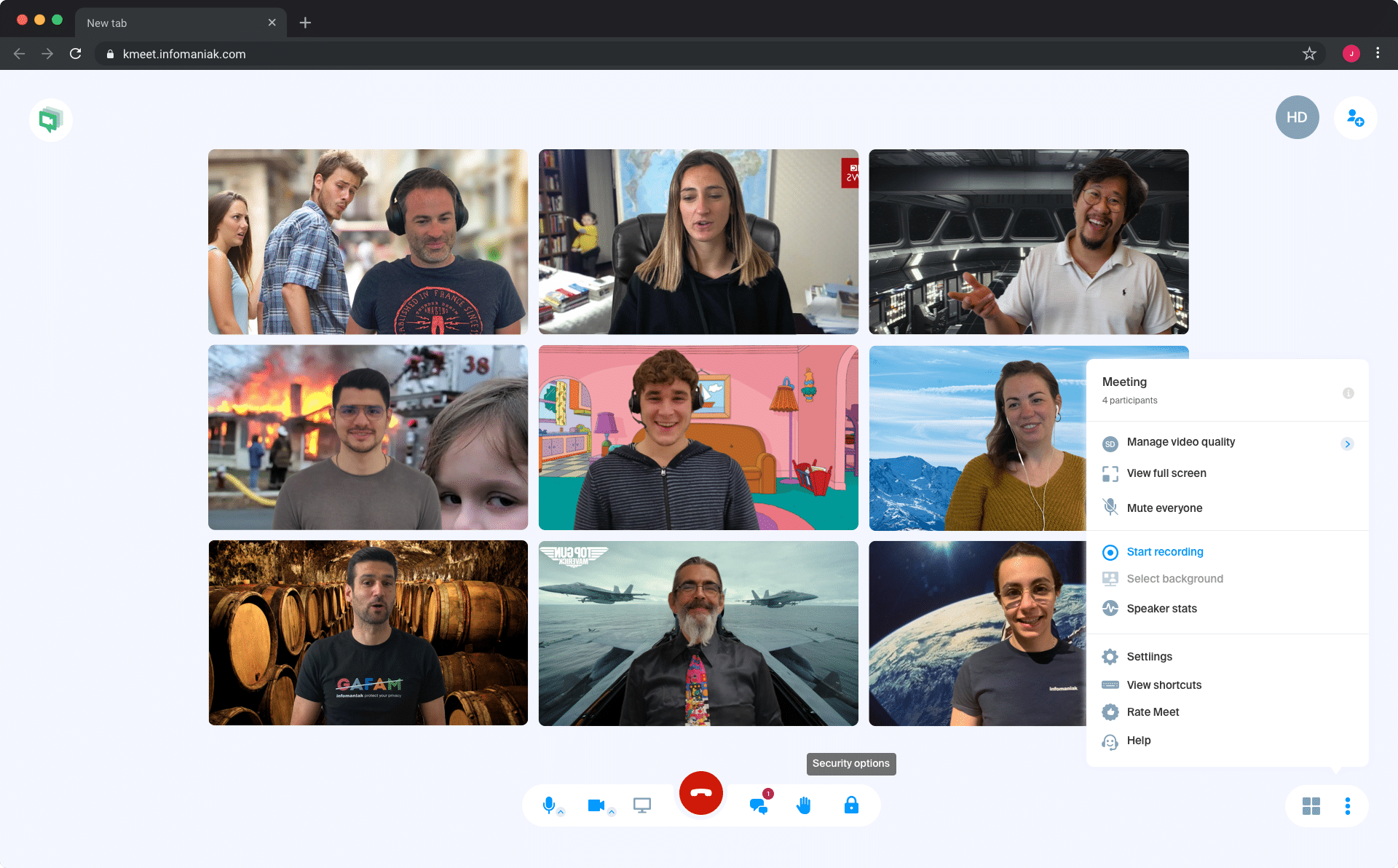 Background images are not just for hiding the laundry that's drying behind you
Like Infomaniak's offices, kMeet's backgrounds let you break the ice in an original way with a touch of humour. Before joining a meeting, you can teleport yourself e.g. to the international space station, a room in an old manor house, the jungle or the greenest datacenter in Switzerland. You can, of course, use your own image instead
To create a more neutral atmosphere, kMeet also lets you simply blur your background.
A picture's worth a thousand words!
By the end of May, kMeet will allow annotating and drawing on shared screens. Only the person sharing the screen will need to have the kMeet app to allow other participants to annotate the image.
Remote access control
kMeet will soon make it possible to allow remote access of a computer running macOS and Windows. A pop-up window will appear on the relevant participant's screen so the request can be accepted. The participant will also have to be running the kMeet app.
kMeet remains free and unlimited and will continue to evolve
kMeet remains a 100% free videoconferencing solution with no data analysis.
"Our business model doesn't include advertising and we don't share our users' data with third parties. Our free services such as SwissTransfer.com and ik.me are financed by our paid products and contribute to promoting the brand," says Marc Oehler, CEO Infomaniak.
My kSuite for business
kMeet can be easily integrated into business applications, and companies looking to customise the tool with their own domain name can opt for My kSuite for 50.- / year. This option will also soon allow users to customise kMeet with their own logo and home screen background image.
For the record, this option also customises the logo, the domain name and the colours of kDrive and all of Infomaniak's webmail. The contacts you share with or request resources from thus remain in your branded environment from start to finish.
Find out more