This article explains how to set up a tracking system for monitoring newsletter subscriptions on your website by creating a goal in Google Analytics. If you have not yet added a newsletter to your website, discover five good reasons to start with e-mail marketing now.
Use metrics to optimise the make-up of your e-mail list
Addressing e-mail campaigns to the right people can literally make your online activity take off. To send e-mails to audiences directly interested in your content, you need to collect the e-mail addresses of visitors to your website and therefore pay close attention to your capture pages.
Fortunately, the Infomaniak Newsletter tool allows you to easily integrate a subscription form on your website that you can monitor directly in Google Analytics. This means you can measure the effectiveness of your capture pages and make the necessary changes to improve your conversion rate and increase the number of subscriptions to your newsletter.
How to measure the effectiveness of your capture pages
The principle is simple:
Simply create a subscription confirmation page on your website. This page appears immediately after completion and validation of the subscription form for your newsletter.
Following this, assess the layout of this confirmation page by setting up a goal in Google Analytics.
By having access to all of the information in the same interface (Analytics), you can then assess the effectiveness of your strategy for e-mail capture (capture pages, conversion tunnels, targeted advertising, etc.).
You can then extend this process to other goals (such as to measure the number of times a visitor contacts you via your website or downloads a file from your website) in order to optimise your website on the basis of quantitative data.
Simply follow these steps:
1. Set up a subscription confirmation page
The first step involves creating a confirmation page that your visitors will see after subscribing to your newsletter. To do this, go to the dashboard of your WordPress site and create a new page: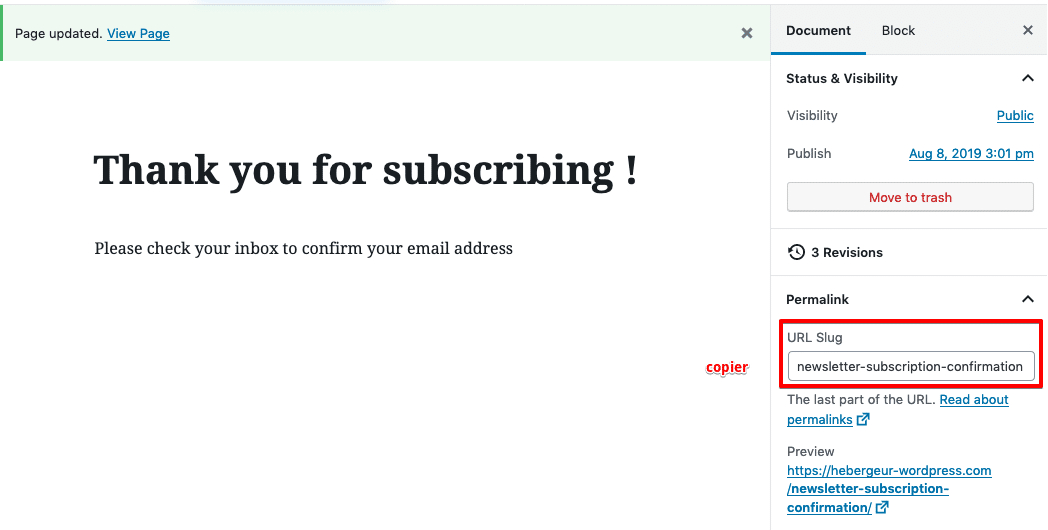 Write a small message thanking visitors for subscribing to your newsletter and come up with an appropriate URL (red box). Don't forget to publish the page by clicking the "Publish" button.
Note down the last part of the URL for accessing the confirmation page (here: newsletter-subscription-confirmation) as this will be used in a second step to set up the tracking goal in Google Analytics.
2. Create a goal in Google Analytics
Go to the Google Analytics dashboard and click "Administration" (in the lower left-hand corner of the page) and choose "Goals" :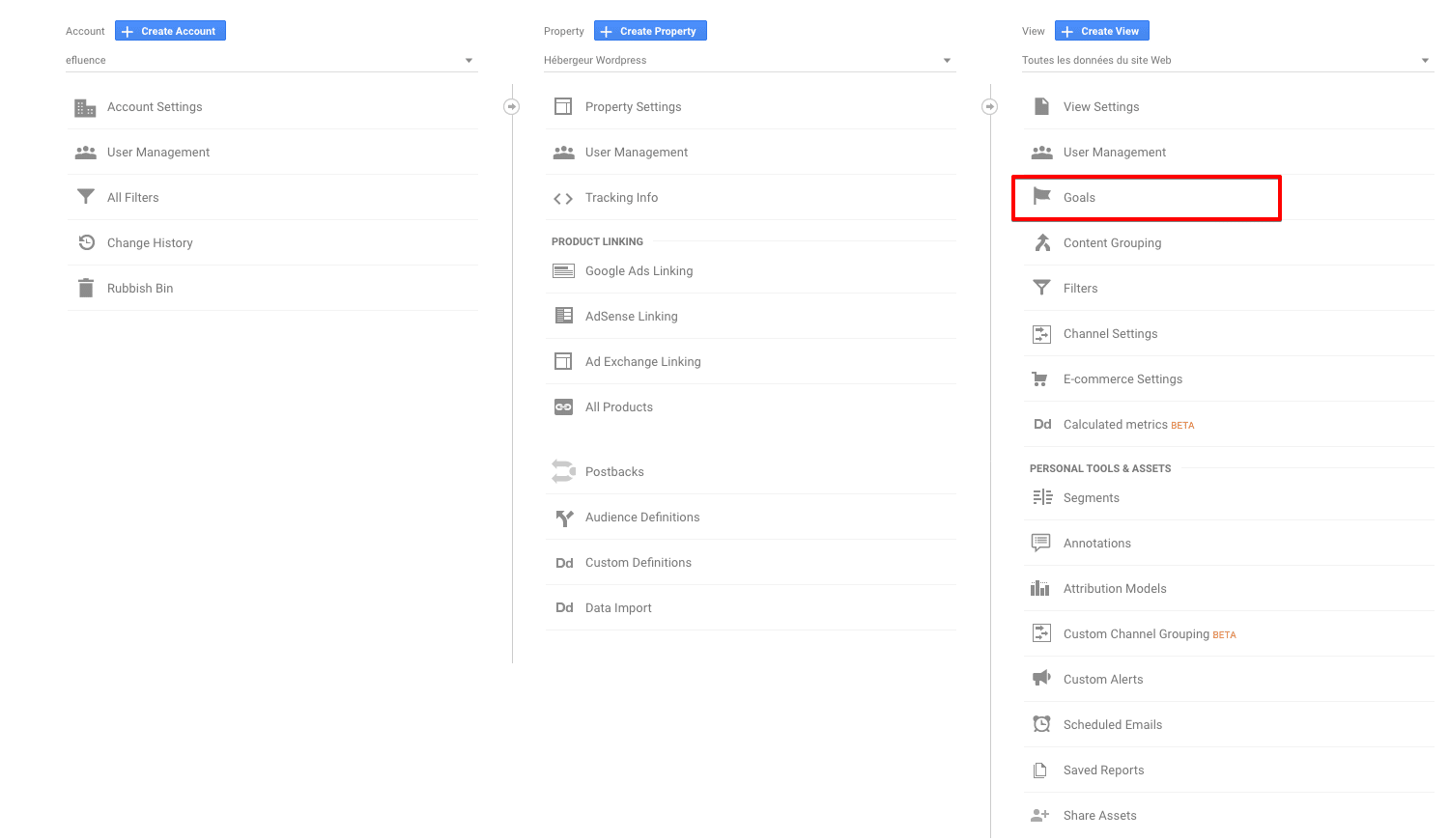 Then click "New goal" :

3. Set up a Google Analytics goal
In this example, we are choosing to set up a "subscription" goal using the template suggested in the list: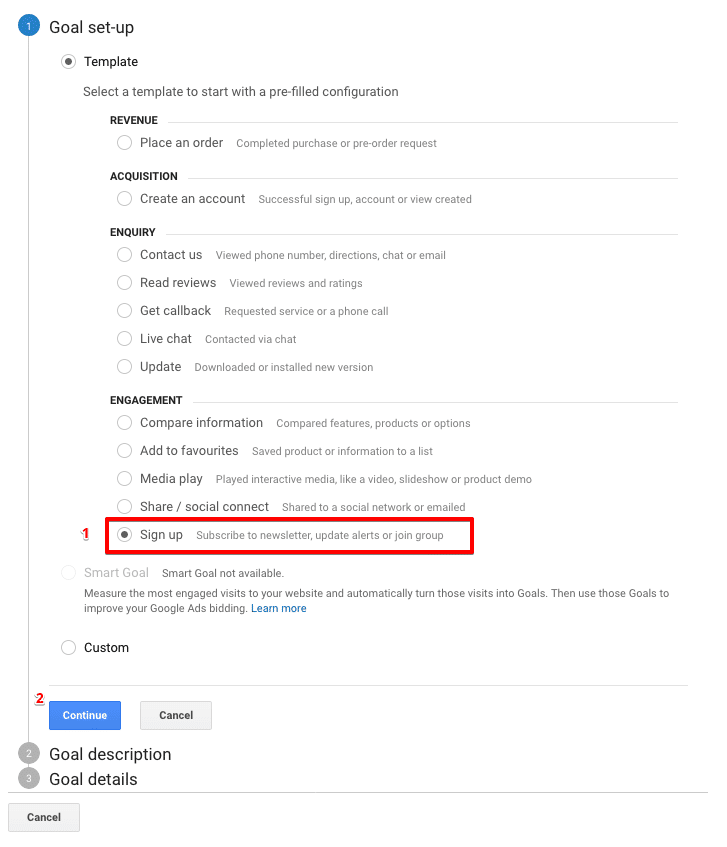 Once the template is validated, simply describe the type of goal in step 2: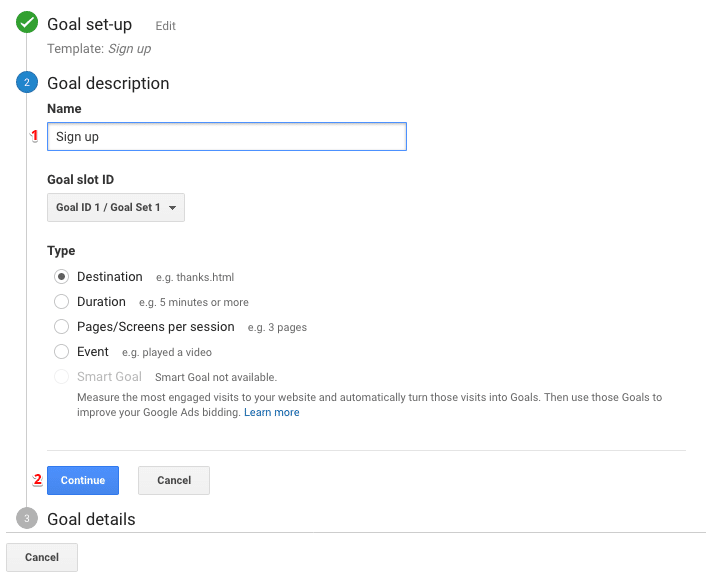 Since we have created a destination page, we have to select the corresponding type, as above.
The final step is to specify the URL for the confirmation page (destination URL):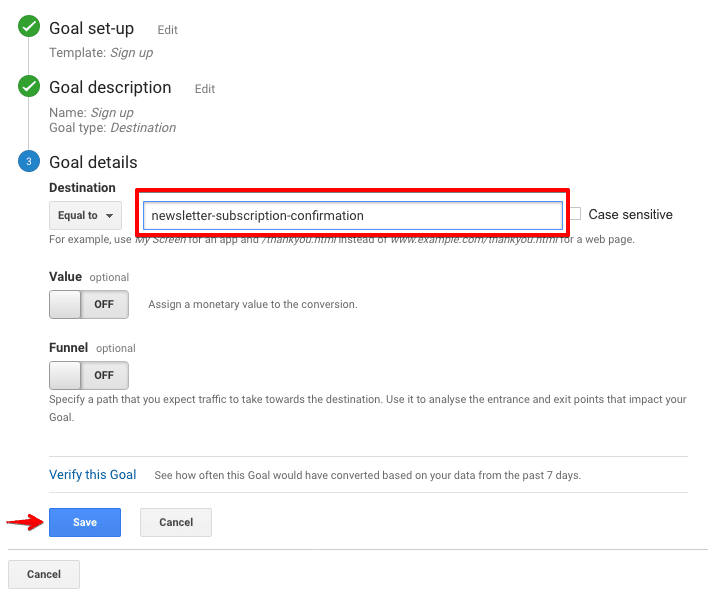 The only thing left to do is to save the goal once the destination URL has been specified. Google Analytics may need a few days to gather the data.
4. Analyse the performance of your pages
Does your subscription page convert enough visitors? Integrating the Newsletter tool and Google Analytics allows you to put your results in perspective, adapt your strategy and develop efficient conversion tunnels.
Go to the Analytics dashboard to discover interesting insights :
Acquisition > All traffic> Channels
Acquisition > Social > Conversions
Acquisition > All traffic> Referrals
To track your goals and find out the content and the pages that are generating the most subscriptions, you can display this view:
Conversions > Goals> Overview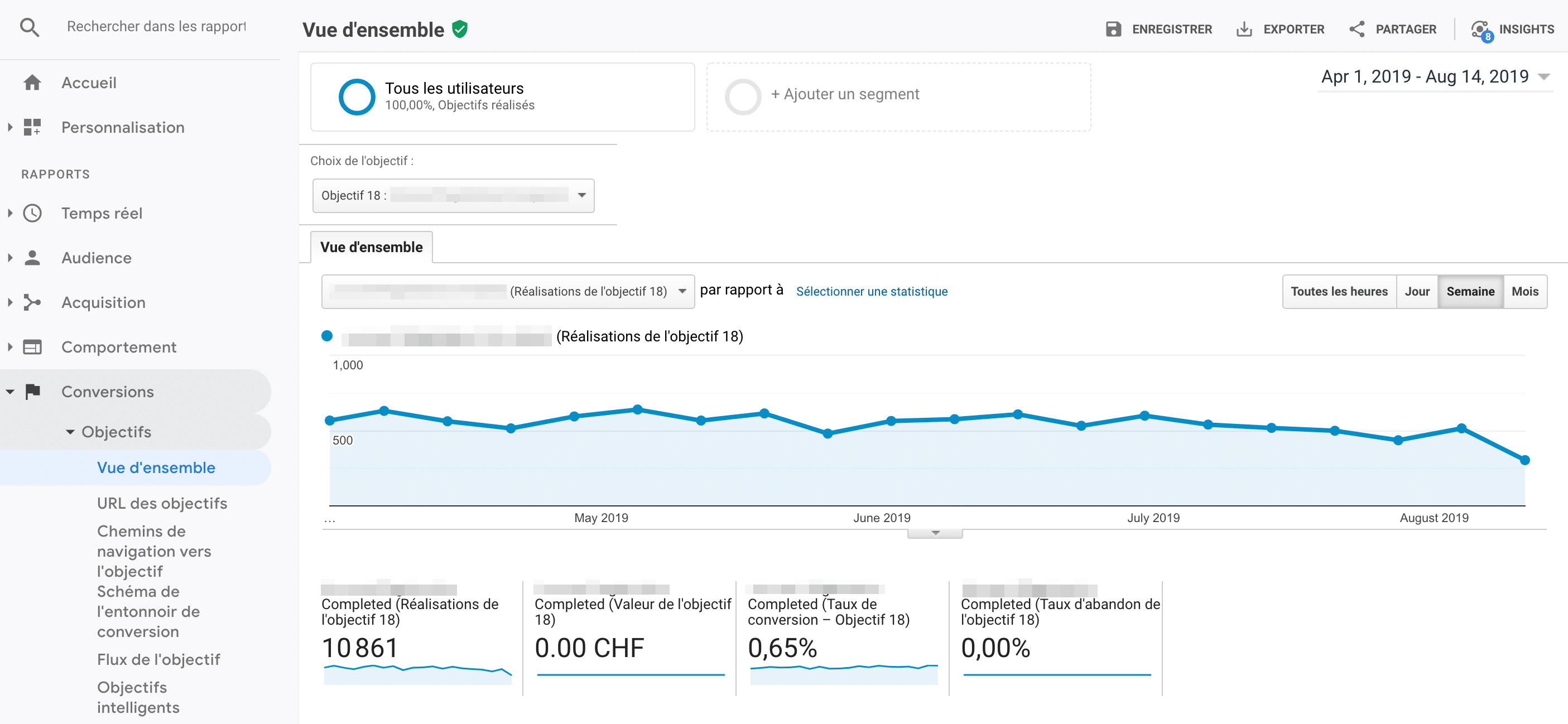 The next view is just as interesting:
Conversions > Goals> Reverse Funnel Path
This table shows the last three steps your visitors made before subscribing to your newsletter. You can also easily see which paths are working the best and put more effort and/or money into these.
Newsletter : the easy and powerful e-mail marketing software for SMEs
The Infomaniak Newsletter tool is a professional and highly advantageous e-mail marketing solution. Unrestricted and with no subscription required, the Newsletter tool uses the credits that you unlock with your Infomaniak products. Your website host may allow you to send 1,500 newsletters per month free of charge, for example. You can, of course, also buy additional credit at discounted and extremely competitive rates.
The Infomaniak Newsletter tool can be used to create your newsletters. You don't have to download software onto your computer – you can do everything online. You will benefit from very practical features for launching and monitoring the success of your e-mail campaign:
Edit the newsletter using drag and drop
Free professional themes
Multi-user management
Optimised formats for all media (mobile, tablet, computer)
Detailed tracking of links
Comprehensive statistics for each campaign and contact
and easy management of your contact list:
Unlimited contacts
Categorisation into lists
Automatic importing (Gmail, WorkSpace, CSV Files, etc.)
Edit the subscription form intuitively
The Infomaniak Newsletter tool changes in line with your needs and will soon be supplemented by the following new features:
Improved interface
Auto-responder
Scenario editor (automation)
A/B testing
etc.
Try out the Newsletter tool with 1,000 free credits
Find out more